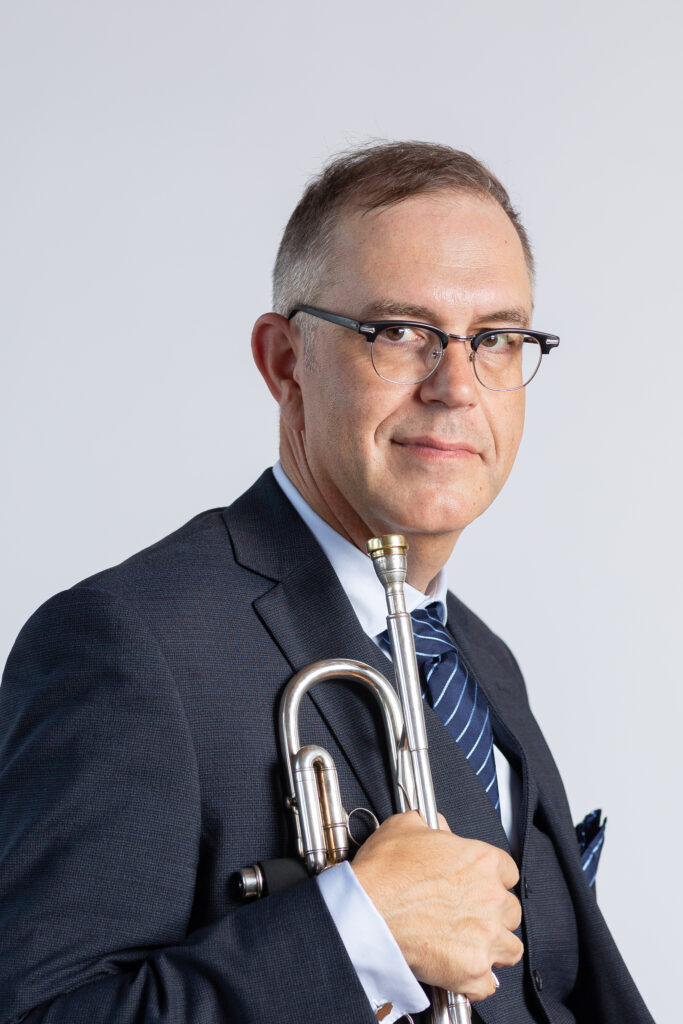 Mårten Lundgren is a jazz-trumpetplayer and arranger mainly working in the Copenhagen/Malmö-area and can be heard in various constellations, from bigbands to small groups. Significant for his trumpetplaying is his ability to keep himself honest towards the music and also his ability to adapt his playing to the various demands he´s faced to.
Mårten was born in 1969 in the town Södertälje wich is situated about 30 km south of Stockholm.
He began playing the trumpet at the age of 9 and started studying at the Royal Academy of Music in Stockholm 1990 where he studied for trumpetplayers as Ulf Adåker, Gustavo Bergalli and Urban Eriksson. 1991 he took one year off to do his military service in a horseback-mounted military musicband, "Livgardets Dragontrumpetarkår".
As early as during his time at the Academy, Mårten began to play proffessionally, and in 1992 he became a member of "Mats Holmquist Stora Stygga" and after graduating from the Academy he worked as a musician in Stockholm, playing with bands as "Stora Stygga", "Stockholm Jazz Orchestra", "Gugge Hedrenius Big Blues Band", "Radiojazzgruppen", "Ulf Andersson Band", "Hector Bingert Latin Lover Big Band", etc
In 1997 Mårten joined "The Ronnie Gardiner Septet" and could each summer until the summer of 2000 be heard at the Tivoli "Gröna Lund". In 1997 Mårten substituted for the first time with Bohuslän Big Band, and played with them a lot for a period of 10 years.
In august 1999 Mårten moved to Copenhagen and managed in short time to establish himself on the jazzscene there.
Allready in november 1999 he played with "Niels-Jørgen Steen A-team" for the first time and shortly after Mårten managed to become a member of "The Tivoli Big Band" and can every summer be heard in the Tivoli Gardens in Copenhagen.
In Denmark Mårten has also played with bands as "Bob Rockwell Quintet", "The Danish Radio Big Band", "The Orchestra", etc….
In 2001 Mårten moved to Malmö, where he lives today. The same year he got the oppotunity to tour with the great swedish jazzmusician Arne Domnerus.
In 2003 the album "Travellin´" was released with Mårten as a leader.
In 2006/2007 Mårten studied arranging at the Academy of Music in Malmö for arranger Sten Ingelf.
Today Mårten is playing with in different constellations in the Malmö/Copenhagen-area.
In 2014 Mårten has been arranging and playing at the singer Mimi Terris first CD with original music, that was released in 2015 and since then he has participated on Mimi´s next album, and is playing regulary in her group.
In the fall of 2015, Mårten made his first tour with his new project Mårten Lundgren plays the music of Bob Dorough  and in february 2016 he recorded the music and it was released in august during the same year.
In may 2019, Mårten released his third album as frontman, Big Band Goes Small Band.
A record where he plays music made famous by Big Bands in a small format of a quartet.
In 2022 Mårten releases his fourth album, Going To The Movies, with great music from different movies. Vocalist Mimi Terris participate on the record.
This year he also participate on Vivian Buczek´s record Roots.